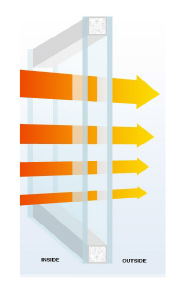 Winter has definitely made its appearance so out with the electric blankets, the hot water bottles and the heaters. Keeping yourself and your loved ones warm this winter can be taxing. Especially considering the increasing cost the use of heaters will be on your already tight budget. But don't despair, you won't be subjected to eating just soup this winter! Just think Energy Efficient uPVC Windows….
There is a way to keep the warmth inside this winter, all you have to do is consider how your windows and doors can affect the inside temperature of your home. A lot of energy is lost through the windows and doors of the home due to the fact that most homes are fitted with standard windows which do not allow for proper insulation in the home.
In a nutshell, this means that the warmth is lost in winter and the coolness is lost in summer. There is a solution to this problem – energy efficient uPVC windows and doors. Energy efficient uPVC windows and doors have insulation properties that will keep the warmth in your home in winter. To get a bit technical so that you can fully appreciate these windows and doors, you need to understand U-values.
A U-value is basically a measure of heat loss in buildings through the walls, roof or floor. The higher the U-value, the worse the thermal performance of a building as a whole. A low U-value indicates a high level of thermal insulation. The lower the U-value, the more insulated a building will be. At Teva we are able to achieve U-values of between 3.8 and 4.6 on our single glazing energy efficient uPVC windows, this means that the insulation is almost twice what it would be with Aluminium or Steel windows, and that means that the interior of your home will be properly insulated this winter.
The main factor behind the insulating properties of these windows and doors is the unique multi-chamber design which significantly reduces heat loss and keeps out draughts. With the option of having single or double glazing on your windows, your home will be warm and cosy this winter without worrying about taking out a loan to pay for your increased electricity!
Teva energy efficient uPVC windows and doors are more than just part of a building structure, they are a lifestyle choice.