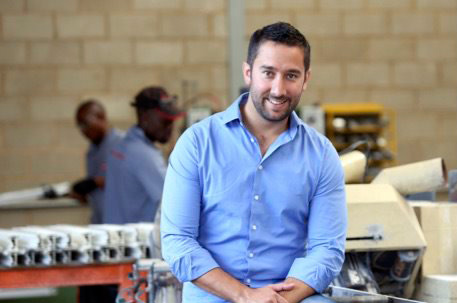 Pieter Malherbe
Relentless entrepreneur. Renegade to some. Call him what you will.
Pieter Malherbe is as patriotic as they come. Born and raised in the Free State, Pieter used his middle-child position in his family to catapult him into business at an early age.
While a high school learner, Pieter and his family domestic worker started a very lucrative business buying and re-selling blankets when he was just 16 years old.
Pieter made a decision to study only what he liked and graduated from the University of the Free State with a BComm, majoring in Marketing, Entrepeneurship and Industrial Psychology. And while he had a degree in hand, he was not quite convinced that he would be able to find suitable employment, mostly thanks to his self-confessed 'ADD, itchy and impulsive ways'.
And then Pieter Malherbe launched Teva Windows.
This itch was finally scratched, after being employed in various industries, when Pieter decided to start his own business in 2006 called TEVA Windows, a manufacturer and supplier of energy-efficient windows and doors.
No R&D. No financial planning or projections. No concept of the market size or appetite. So three years down the line, the business was ailing and in need of a bit of rejuvenation. The business moved from its Jet Park operations to his partner's garage and after only managing to draw a salary five out of 12 months at a time, it was time for radical shift.
"But I believed back then, as I do today, that true entrepeneurs 'suffer' from an irrational self-belief. So even when things are not quite as smooth sailing as we would like it to be, we stick it out."
It took three more years before TEVA's fortunes changes when a new partner and investor joined the business and offered Pieter the much needed business mentorship to transition the business from 'barely breaking even to measurable profit'.
"Entrepeneurs are born out of a need or peeve. Grow up in Bloemfontein the way I did, survive nail-gnawing cold winters and you would also want to create something that changes all of that."
Speaking Engagements
Keynote speaker on SANS204 and SANS10400 at Southern African Energy-Efficiency Conference 2011
Guest speaker at South African Institute of Architectural Technologists
Guest lecturer at University of Pretoria and University of Johannesburg
Sustainability Achievements
Contributed to the country's first off-grid commercial housing project in Midrand
Contributed to CSIR Energy-Efficient House pilot project
Century Home Show Competition (Winner of Best Architecture and Home of the Century; Winner of Best Green Technology & Best Build)
Contributed to City Power Energy-Efficiency educational showcase in Sandton
"I'd say to any inspirational business-owner or entrepreneur, look at that part of the world you live in. And create solutions. And if you can't create it, find someone who can. Start your own business. Be a The South African government requires that all new commercial and residential property developments, including renovations, use energy-efficient job-creator, not a job-seeker. And find good mentors. Sure, you will make mistakes. Many, as I did. But stick it out. Every business has to pay its school fees one way or the other. But mentors are able to cushion the knocks and help you to maintain the irrational self-belief we all need to succeed in life." – Pieter Malherbe