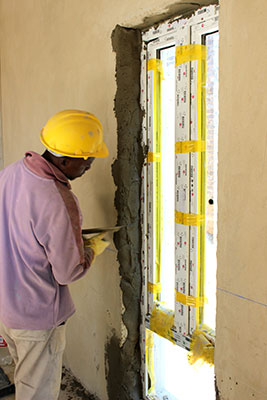 Windows form an integral part of the structure of a building. Whether it be an office block, housing complex or stand-alone home, your windows must always be fitted correctly (according to building regulations) and be aesthetically pleasing at the same time. Taking this into consideration, what windows should you then choose?
The answer – uPVC windows. Not only will they be fitted according to code but they will add value to the structure of your home in the long run. Look at it this way – standard windows are the option that many people go for from a cost point of view but do they last? With our South African climate (being blessed with sunshine nearly the whole year round), the elements can be pretty harsh to the exterior of any building, specifically the windows. With your standard wood or aluminium frames you need to factor in maintenance costs as the windows need to be treated every so often to keep them looking like new as the sun tends to warp and discolour the windows.
That is where the durability of uPVC windows comes into play. With uPVC windows your maintenance will be minimal as they are extremely resistance to weather conditions and very easy to care for – due to the easy-care properties of the smooth profile surfaces, cleaning your uPVC windows is a breeze! With a life expectancy of 40 years plus, your uPVC windows look as good as new for many years.
Numerous tests have been conducted on uPVC windows to ensure safety and durability giving them the SABS stamp of approval.
If you are worried about how the windows will change the look of your home, don't. If anything, the uPVC windows will enhance the outer appearance and add value to your property! Consider uPVC windows for your home …. Definitely the smarter choice!